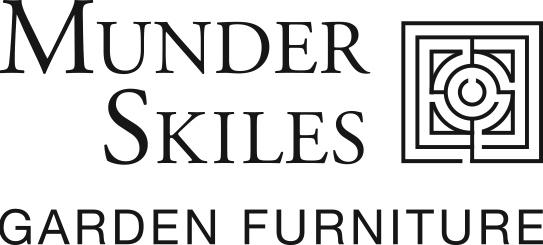 Munder Skiles is a noted outdoor furniture company founded over 25 years ago by John Danzer, a respected lecturer on Exterior Furniture Design History.  Since the inception of the company, John has studied and improved upon an exceptional range of known and anonymous historic garden furniture designs in addition to creating a number of completely unique pieces.  Every design in the collection is executed with a dedication to detail; not only is the furniture compelling with cushions, but attention to things like silhouette, pattern, shadow lines and shape assure year-round comfort and style without cushions.
Grounded in a deep knowledge of the history of garden furniture and material science, Munder Skiles is recognized for its superior standards of proportion, construction, and comfort.  Serving primarily the trade, the company takes a thoughtful solution-oriented approach to its craft. The scope of styles and services offered enables designers to achieve highly specific looks; customization and endless flexibility in configurations and sizing options facilitates a wide range of function. Ergonomic designs create furniture that is comfortable on its own, that feels and looks good with or without cushions.
With an unsurpassed variety of designs ranging from traditional to contemporary, Munder Skiles produces furniture in wood, aluminum, stainless steel, rattan and outdoor wicker. Many of the pieces are licensed from historic estates or inspired by antiquated designs which are then adapted for more modern settings. The company is appreciated for its distinctive detailing, good joinery and welds, and a commitment to researching and using ecologically safe materials and finishes.  All of the pieces are made by skilled craftsmen using only top-quality materials such as FSC-certified teak and top-performing paints.
Munder Skiles is based in Garrison, New York in the Hudson Highlands, where it maintains an extensive exterior showroom and design studio. The company also has a showroom in New York City and representation in Los Angeles.
Associated members
John Danzer

Owner at Munder Skiles

DLN Partner

North East (Inc. NY)